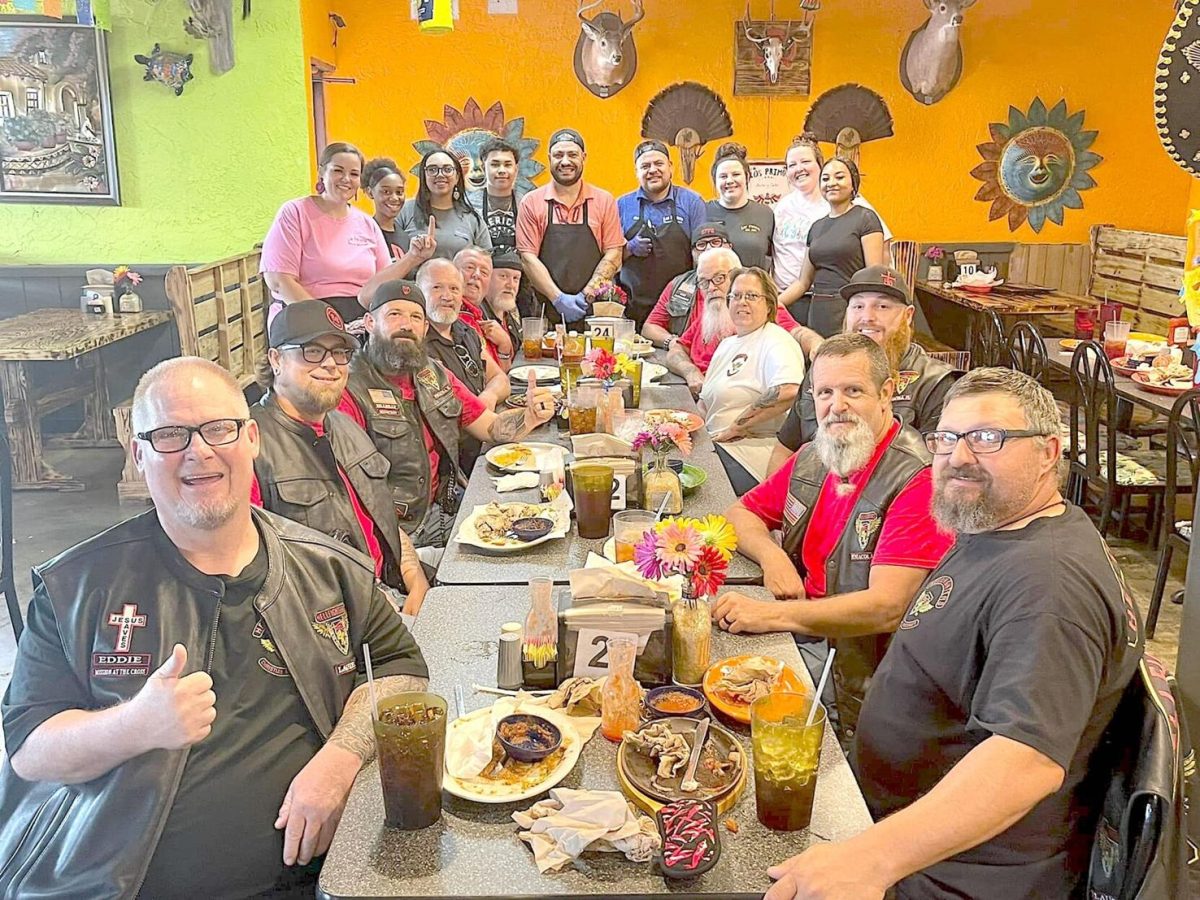 Hellfighters raise helping hands
The group of leather-clad bearded men may have looked like they were ready to raise hell when the staff at the restaurant they were in was too swamped to take care of customers.
But when those guys stood up, what they did raised the spirits of everyone at Los Primos Mexican Restaurant that Sunday. 
The dozen or so Hellfighters members who were there to eat after church began to bus and clean tables to lend a few helping hands to the overwhelmed, understaffed crew at the popular eatery that day.
"I can't even begin to know how many tables they cleaned, but it was a lot!" Heather Cisneros posted on the Los Primos Facebook page. "Walking out of the kitchen with a tray full of food and seeing our customers up helping us was one of the most overwhelming feelings of gratitude I may have ever felt.
"They saw a need and decided in that moment to be the hands and feet of Jesus and jumped into action."
That post received a lot of response from people near and far, and it's the only reason people outside the eatery learned of the good deed by the Hellfighters — men who were once known for raising hell amid their addictions but have battled those demons in the faith-based recovery ministry.
Gina Headrick was not surprised by what the men did, but she was moved to tears after hearing about it.
"They are all servants at heart, in any situation," said Headrick, who is president and CEO of Headrick Companies. Her late husband Richard is the founder of Hellfighters. "When they saw the need, they just did what Hellfighters do. I can honestly say that describes all of our Hellfighters brothers and sisters from coast to coast.
"I was very proud of all of them, but I was so impressed by and grateful to the people who picked up the check for the entire table. That was a touch of class. Whoever they are, thank you. They blessed our guys' socks off!"
The kind gesture by the Hellfighters men led to someone else making a kind gesture in return.
"It would be so so cool if that would become contagious in the community," said Mike Grubb, who is national president of Hellfighters.
Grubb was one of the men at the table that day, along with Eddie Parker, who is general manager of Hellfighters USA Motorcycle Shop. It was Parker's first day back on his bike after a bad crash in May.
"They were running ragged," Grubb said of the restaurant staff, "and a bunch of people left at the same time and there was a mess."
Customers were waiting to be seated, but servers were having to run food to others who had been waiting a while on their orders instead of cleaning tables so they'd have a place to sit.
That's when the Hellfighters crew went into action, grabbing a dish cart and going to work.
"We were just helping out because they were in need of help," Grubb said. "We were glad to be able to do that. They're good people and they work hard. They just needed a little help, and we were glad to be able to do it."
There were a couple of Hellfighters prospects from Pensacola there with them that day, and the gesture — and the reaction to it — made an impression on them, too, he said.
Grubb was especially grateful for the person who paid for their meals. 
"There were 11 or 12 of us, so that was a good check," he said. "What a blessing."
Hellfighters men have been at rock bottom before turning their lives around, so a little kindness goes a long way.
"A lot of us come from some bad places," Grubb said. "I was in prison in California in 2005. Eddie Parker was living under a bridge in Pensacola … We've been as far down as you can go, but when you look up to Jesus, that's encouraging. That's when things change. We are called to be His hands and feet."
Instead of complaining — like many Christians are prone to do, Grubb said — the Hellfighters got up and helped. They did it for the glory of God, not for recognition or to get a free meal, Grubb and Cisneros noted.
"We're part of a ministry," Grubb said.
And the people in Los Primos that day were ministered to after their morning church services.
"God put these people in the perfect place at the perfect time, and so many were blessed by the actions of both," wrote Cisneros, whose husband Gabino "Gabo" Cisneros owns the eatery with Ignacio "Nacho" Figueroa. "Today was one Crazy Sunday we will all remember for a long time! Thank you guys for being a blessing today and every day!"